Mr Thompson also presented the museum with a copy of a booklet
about the Thompson family which he produced last year.
Some of the pictures in the booklet relating to his
great-grandfather's prizes from
the Insch Horticultural Society are shown below.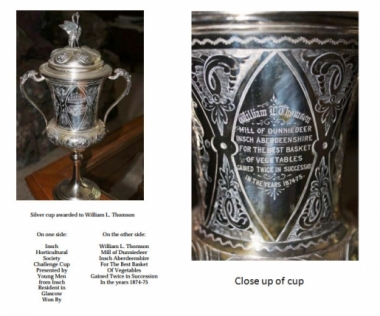 Any information about "Mill of Dunnydeer" and the Thompson family
would be greatly appreciated by Mr Thompson and can be
communicated via our contact page.
More local information about Insch Horticultural Society
An album containing a number of newspaper cuttings and leaflets
dating from 1920 to 2000 collected by Mrs Butchart was
donated to the museum in 2004.
It contains some details about two Insch Horticultural Shows
held in September 1928 and one in 1939.
We also have in our archives,details about the Society
being reformed in 1978 after about a 20 years gap.
Can anyone give us some more info please?
(Again via contact page)