Following on the successful 2017 exhibition, "Our Bobbies" 2018s will be Recording Change, Twenty Years of the Insch Connection Museum.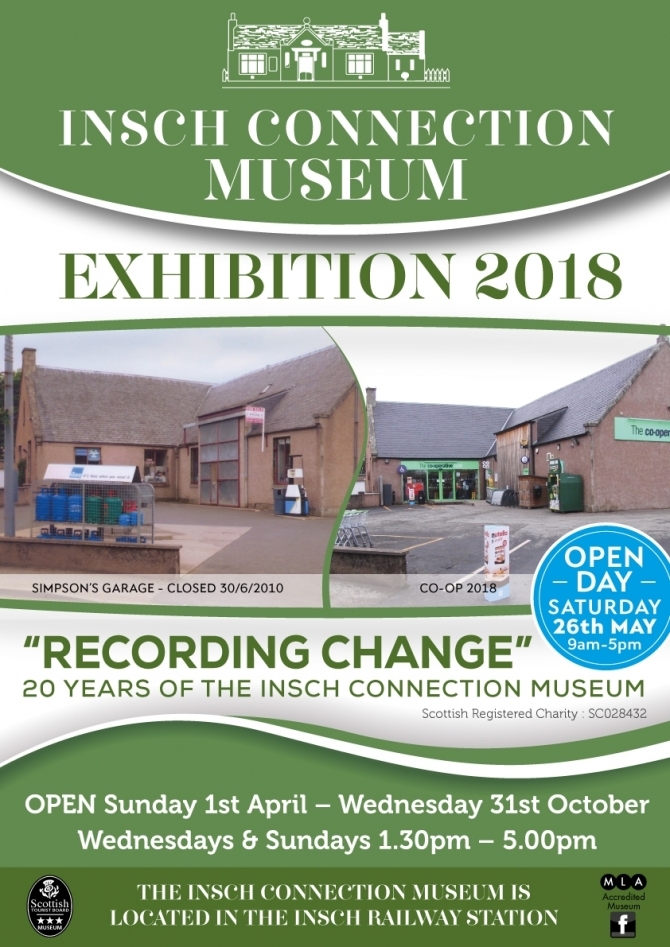 Bookings for other days welcomed
Admission free but donations appreciated
Enquiries: 07532223824
www.inschmuseum.org.uk
E-mail: insch.museum@gmail.com
Facebook: Insch Connection Museum
PREVIOUS EXHIBITIONS
Every year since the Museum opened in 1998 we have put on an Exhibition usually featuring different aspects of the village life of Insch and the surrounding countryside.
A photographic record is kept of the material and artefacts used in each exhibition.
These photos then form the basis for an album which is compiled each year.
All the albums based on the Exhibitions enumerated below are kept in the Museum where they can readily be viewed.
In addition the contents of each album have been scanned and may be viewed on our computer system in the Museum.
Exhibitions held at Insch Connection Museum (1998 - 2017)
1998 : 'Merchants, tradesmen & shops of Insch'
1999 : 'Insch at War'
2000 : 'Insch celebrates'
2001 : 'Agriculture'
2002 : 'Living in the Kitchen' & 'Queen's Golden
Jubilee'
2003 : 'In Sickness and Health'
2004 : 'Railway 150' & 'The Post before 1854'
2005 : 'Sport in Insch'
2006 : 'The Changing Face of Insch'
2007 : 'Trades and Crafts of Insch' and 'Maintaining
the Line'
2008 : 'Street names of Insch'
2009 : 'Insch connections abroad'
2010 : 'Stone to Steam'
2011 : 'Williamston – an Insch Connection'
2012 : 'Kirks and Manses'
2013 : 'Childhood - Then and Now'
2014 : ' The Great War - Life in Spite of it.
2015 : ' Wild About Insch - Countryside Connections '
2016 : ' Souters of Insch '